Instance Administration and Configuration¶
Lasso Server provides a convenient, web-based interface for configuring a Lasso instance's settings, managing and maintaining databases, and much more. This interface is referred to as the Lasso Server Admin.
Accessing Lasso Server Admin¶
Lasso Server can have multiple independent instances defined within Lasso Instance Manager. Requests are distributed to each host based on the value of each request's Host header.
The default instance will catch all incoming web requests. If no additional instances have been created, Lasso Server Admin for the sole instance can be accessed using any domain name pointing at the server that's enabled for Lasso Server. (Use "localhost" if accessing Lasso Server Admin from a browser on the same machine Lasso Server is installed on. Otherwise, replace "www.example.com" with the server's actual domain name or IP address.)
http://localhost/lasso9/admin
http://www.example.com/lasso9/admin

To access Lasso Server Admin for a particular instance, it is necessary to construct a URL that meets the criteria for the instance. For example, if an instance only serves requests for the domain "secure.example.com" then the following URL would load the Lasso Server Admin for that instance:
http://secure.example.com/lasso9/admin

The web browser should prompt for the administrator username and password using a standard HTTP authentication prompt. The web browser will not prompt if Lasso Server Admin has already been accessed using the browser in the current session or if the authentication information has been stored in a keychain, passport, or browser preferences.
If an error is displayed, make sure Lasso Server and the web server are running as described in the installation instructions for your operating system elsewhere in this guide.
User Interface¶
All settings for a particular instance are configured here.
System Status¶
The System Status tab, located in the top right portion of the page, contains information regarding the Lasso Server instance.
Uptime – length of time the instance has been running
CPU Time – how much CPU time has been consumed by the instance
Threads – number of threads in use by the instance
Memory – amount of memory consumed by the instance
Free – memory Lasso has been allocated but is not currently using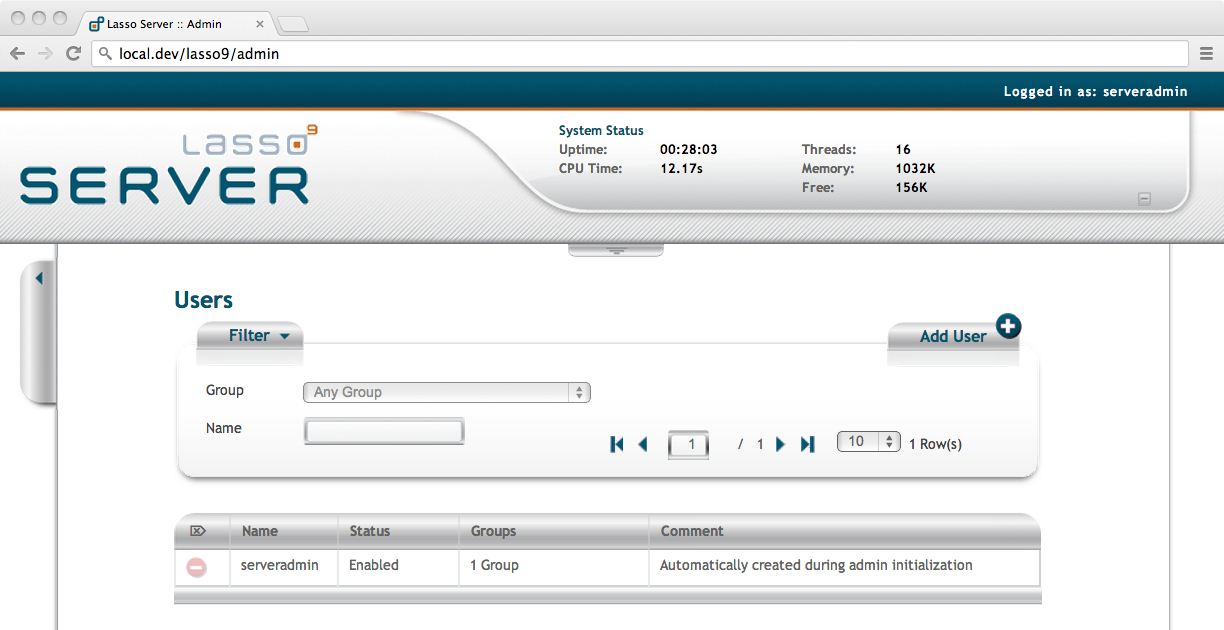 Lasso Quick Code¶
Lasso Quick Code allows running code snippets within the Lasso Server Admin web interface. The Lasso Quick Code console can be opened by clicking the arrow tab in the top center of the page.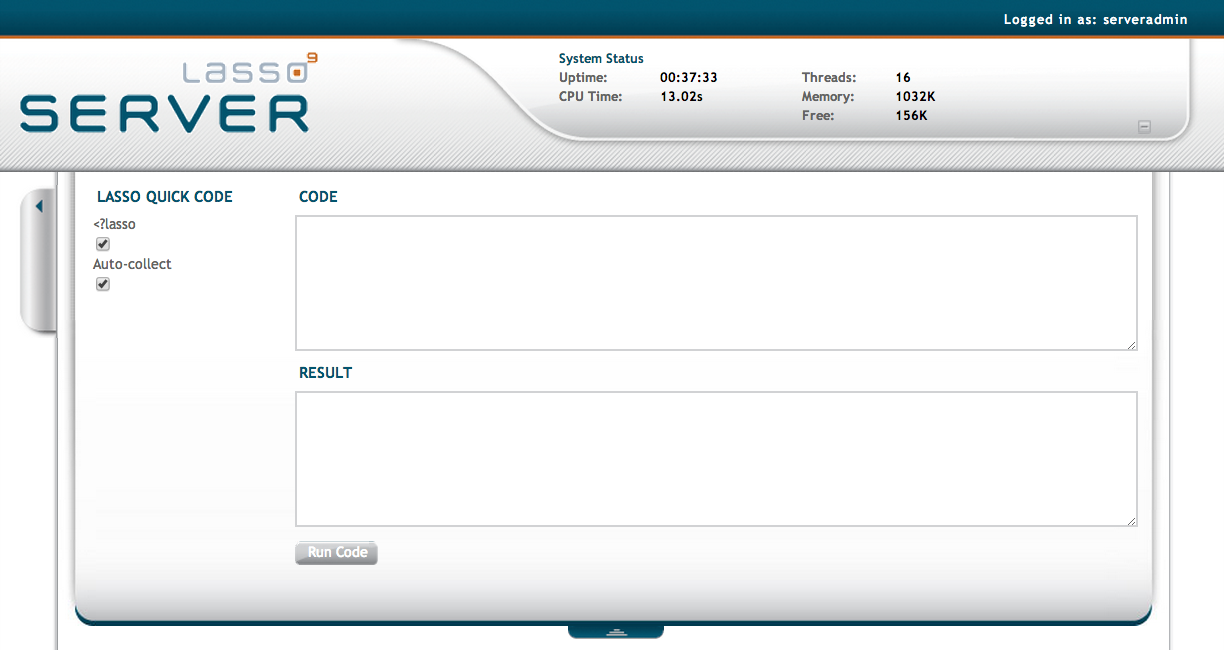 The Lasso Quick Code console has two configurable options:
<?lasso – When this option is checked, anything entered in the "Code" field is treated as having been wrapped in

<?lasso

...

?>

delimiters.
Auto-collect – When this option is checked, the Lasso Quick Code console will display the results of auto-collecting the code in the "Result" field.
Administrative Tasks¶
Each of the links in the Main Menu leads to different sections in Lasso Server Admin to perform specific administrative tasks. These tasks are outlined in the sections that follow.